Training at UConn
Beginner and advanced classes for men, women and children are held at Hawley Armory Gymnasium (near the library at the center of the UConn campus in Storrs/Mansfield, Connecticut). Visitors are welcome to come train with us or observe classes.
The training schedule is:
Note: Due to Covid-19, all classes are currently online Mon, Wed, Fri 7:00-8:00pm. If you are interested in these classes, please contact us.
| Location | Monday | Tuesday | Wednesday | Thursday | Friday | Sunday |
| --- | --- | --- | --- | --- | --- | --- |
| HAWLEY ARMORY GYM | 7:00-8:45pm | - | 7:00-8:45pm | - | 7:00-8:45pm | - |
| HAWLEY ARMORY MAT ROOM | - | - | - | - | - | 6:00-7:45pm |
---
KARATE-DO (The "empty hands way")
The "kara" of karate means "to render oneself empty". Master Gichin Funakoshi, the "Father of Japanese Karate", wrote, "The student of karate-do must render his mind empty of selfishness and wickedness in an effort to react appropriately toward anything he may encounter". Karate's roots go back to the Shao Lin and other ancient fighting arts of China, where physical training methods were used to build the endurance and strength required to carry out the rigid discipline of the religion. These arts eventually spread to Okinawa and then to Japan where karate was refined into its present-day form. In 1955, the Japan Karate Association (JKA) was established with Master Funakoshi as chief instructor. The JKA trained and sent instructors throughout the world, which is one the the primary reasons karate is as well known and popular as it is today.
Master Gichin Funakoshi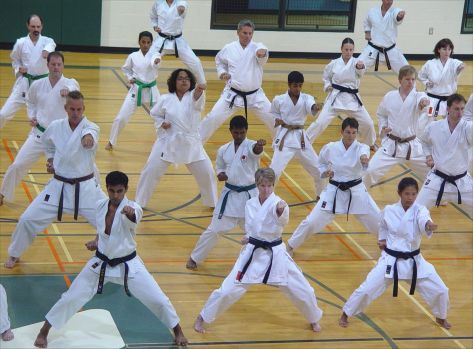 As a form of physical exercise, karate is almost without equal. Utilizing all parts of the body, karate training increases the strength, speed, stamina, coordination, reflexes, and balance of the karateka (student of karate). It is the ultimate art of unarmed self-defense. Like knowing how to swim, you always have it with you. However, Master Funakoshi saw karate not only as a means of conditioning or self-defense, but also as a way to build character and mental discipline. The karateka is taught not only the physical techniques, but also how to use his skills with wisdom and discretion. Among the many mental benefits of karate training are improved self-awareness, confidence, discipline and emotional control.
---
The Japan Karate Association
and the UConn JKA
With millions of members in over 200 countries, the Japan Karate Association (JKA) is the largest martial arts school in the world. The JKA teaches karate in the traditional Japanese way, emphasizing strong stances and powerful basic technique as well as mastery of kata (form) and kumite (sparring). In the United States, the JKA has a main school in each region which trains instructors and ensures the maintenance of high standards in all of the JKA branch schools. Shotokan Karate-Do International, which is based in New York City, is headquarters for all JKA schools in the region. The SKDI was founded in 1968 by Master Masataka Mori, 9th dan (1932-2018). The UConn JKA is dedicated to the continuation of traditional karate-do as a physical and mental discipline designed to improve the overall quality of the student's life.
Master Masataka Mori
---
THE DOJO KUN ("School Code")
The Dojo Kun (in brown type below) is recited at each practice (the black type is a more literal translation of the original Japanese). It serves to remind students that karate-do is not just about training the body, but also about perfecting character and attitude. It also reminds students that the physical and mental strength learned through karate must be accompanied by a moral code of respect and restraint.
SEEK PERFECTION OF CHARACTER

Strive for completion of character
BE FAITHFUL

Defend the path of truth
ENDEAVOR
Foster the spirit of effort
RESPECT OTHERS
Respect the principles of etiquette
REFRAIN FROM VIOLENT BEHAVIOR
Guard against impetuous courage

See also Sensei Funakoshi's Twenty Precepts (the Niju Kun)


And more on Funakoshi's ideas on how to practice karate from the

JKA Boston webpage . . .
---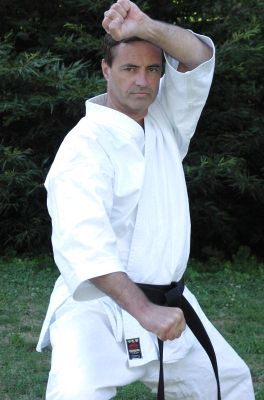 UConn JKA Instructors:
Our chief instructor, Sensei Robert Jacobs (7th dan), is one of the highest ranking JKA instructors in the country. Jacobs began his karate training at UConn in 1973 and became its instructor in 1976. He is a certified "A" Class JKA International instructor. Jacobs is twice (1979 & 83) Shotokan Karate-Do America mens kumite (sparring) champion. In national championships (AAKF) he has competed on many teams with 1st place wins in kumite (1985) and kata (1990 & 1991). He also competed in two world championships (JKA Shoto Cup, Tokyo 1992 and ITKF World Championships, Montreal 1993). He now judges in national and world competitions (including World Shoto Cup Championships in Philadelphia 1994, Osaka 1996, Paris 1998, Sydney 2006 & Pattaya 2011).
Jacobs continues to teach karate-do in the strict, traditional fashion - emphasizing that the development of spirit and character are as important as that of technique. In his almost 40 years of teaching at UConn, over 170 of his students have attained the rank of shodan (1st degree black belt) or above.

Our Assistant Chief Instructor is Mike Jacobs (5th dan). He began his karate training at UConn in 1990 and is now a certified "A" Class JKA Instructor. Since 2003, Mike has placed first 10 times in kumite and 3 times in kata among Shotokan Karate-Do International Championships, and has won the "Outstanding Competitor" award for best combined kumite and kata performance 10 times.

Our other full time instructors at UConn are Ryan Jacobs and Melissa Jacobs (both 3rd dan). Both have been training for more than 20 years and are "B" Class JKA Instructors.

In addition to our full time instructors, the UConn JKA has produced many alumni who have acheived JKA Instructor status (see Membership Roster for full list), many of whom now teach at other JKA schools. Among those who visit UConn regularly and occasionally instruct here are Andrew Bakoledis (5th dan, Chief Instructor JKA Montville), Abby Barrera (4th dan, Asst. Instructor JKA Montville), Maura Graham-Vecellio (3rd dan, Chief Instructor JKA Wallingford), and Mark Rollins, (3rd dan, Asst. Instructor Karate Spirit). All are veterans of regional and international competition and bring a rich diversity of teaching experience to UConn.

Instructors Andrew Bakoledis, Mike Jacobs and Alumni Joe Vincente were on the U.S. Kata Team that made the finals (top 8) at the 2011 JKA World Shoto Cup Championships (Pattaya, Thailand). See YouTube videos of the team here: Semi-finals - Kanku sho and Finals - Meikyo).
---
Schedule of UConn and Regional Events
| Jan 25-26 | | | |
| --- | --- | --- | --- |
| Feb 15-16 | | Gichin Funakoshi Cup U.S. Team Selection @ Phoenix | |
| Feb 23 | | Instructor Training @ New York | |
| Feb 28 | | Special Self-Defense Class @ UConn | |
| Mar 13-15 | | Montreal Tournament & Spring Camp for All Ranks | |
| Mar 15-22 | | UConn Spring Break (Training at Usual Times) | |
| Mar 29 | | Instructor Training @ New York | |
| Apr 18? | | Annual Team Shiai (Competition) @ Montville | |
| Apri 29 | | Kyu Examination for Rank and Final Practical Exam for AH1200 @ UConn | |
| May 1-3 | | Shotokan Karate-Do International Spring Training Camp @ UConn | |
| May 9 | | Shotokan Karate-Do International Spring Championships @ Montville | |
| May 31 | | Instructor Training @ New York | |
| June 21 | | Instructor Training @ New York | |
| July 9-12 | | Shotokan Karate-Do International Summer Camp @ Springfield College | |
| Aug 30 | | Instructor Training @ New York | |

---

E-mail us at uconnjka@gmail.com

Or click here to see all JKA Connecticut Dojo listings.